7 Reasons Why You Need Commercial Insurance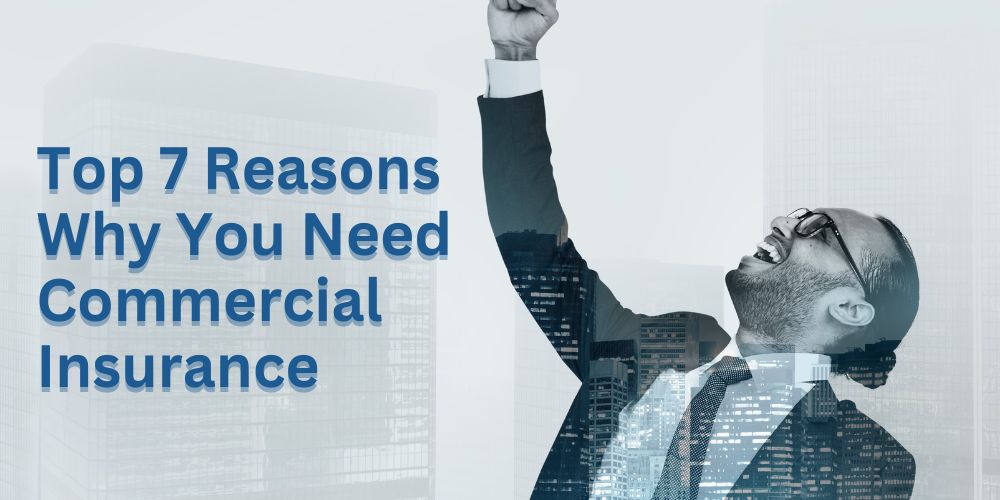 As a business owner, it is crucial to have adequate commercial insurance. Businesses need commercial insurance to have protection against financial loss due to unforeseen circumstances. In this article, we will discuss the top reasons why you need commercial insurance for your business.
Business insurance or commercial insurance are insurance products created specifically to cover different needs and risks of businesses. It provides businesses with much-needed protection against lawsuits or financial losses due to unforeseen incidents. It is crucial for business owners to ensure they have sufficient coverage to protect themselves in the event of a major loss. Without adequate coverage, continuing to operate could become impossible. Therefore, having the right amount of coverage is key to surviving challenging situations.
Why do You Need Business Insurance?
As a business owner, why does your business need commercial insurance? This coverage helps you against lost income, property damages, injuries, lawsuits, etc. There are several things you can't predict or would not expect that can happen to you or your business, but when disaster hits, getting insurance will be too late. While one of the most popular is the Business Owners' Policy or BOP, many businesses bundle multiple types of insurance combined under one policy.
Top 7 Reasons Why You Need Commercial Insurance
1. It's the Law – In many states, businesses must have certain types of insurance by law. Based on location, the most common are workers' compensation, unemployment, or disability insurance. In Illinois, the state law requires business owners to have workers' compensation insurance coverage.
2. You Could Be Sued – Without insurance, one accident followed by a lawsuit might be enough to cause substantial damage to your business. Even winning might not be enough to save you from legal defense costs.
3. Ensure Business Runs Smoothly – No matter how safely you conduct your business, business interruptions will always happen. But while you can't control the interruptions, you can soften their effect on your pocket with the right amount of business insurance coverage you needed.
4. Makes You Look Credible – Commercial insurance not only provides your business financial safety but also gives extra credibility. It shows prospective customers and clients you take things seriously and are a safe bet. And if something goes wrong while working for them, there may be a compensation option for these prospects. That's why you need commercial insurance.
5. It's Cost Effective – When unfortunate incidents happen, operations might slow down or even completely shut down. With an insurance policy, you are protected against financial loss, cover legal expenses, provide employee protection, offer peace of mind, support risk management, and ensures business continuity, all at affordable premiums.
6. Protection against Employees Injuries – Based on workplace conditions, injuries might happen, which is why you need business insurance is vital. In those moments, the liability is on the business owner. If the injury is not severe, the employee can start working again shortly, and the medical expenses will be small too. But in cases of serious injuries, medical expenses, and compensation might cost a fortune. Insurance helps you bear those expenses with ease.
7. No One Can Predict the Future – No one knows what the future brings. Unfortunately, injuries, lawsuits, or natural disasters happen randomly, so it is better to be insured. One of the many benefits of commercial insurance includes peace of mind, thus allowing you to focus on what you love the most.
Conclusion
Being a business owner is never an easy task. Facing various challenges on different fronts, you want to be able to control as many strings as possible. And when those tough moments occur, commercial insurance can provide a safety net. And while nothing can undo the damages, loss, or pain, you will know that at least something will support the business operations to help them run as smoothly as possible.
FAQ's
What are the Benefits of Business Insurance?
Protecting your business investment is of utmost importance, and different types of insurance can help businesses from liability claims to property damages which can be expected or unexpected. This insurance aims at employees' benefits, work injuries, data breaches, etc.
Is There Specifically Designed Insurance for My Business?
Every industry has specific insurance packages that address the unique needs of businesses. While many businesses go for the Business Owners Policy (BOP), as this is not available for every business class, Package Policy by an independent insurance agent offers the next best option.
How Much Does Commercial Insurance Cost?
Insurance premium varies on several factors including operation type of the business, size of the payroll and gross receipts. Many Small Business owners can purchase BOP policies under $1000 per year. If you are in Illinois or other states where our agency services, you may contact us at Abe GT & Associates, Inc. We can help!
Our team has over 25 years of collective experience providing comprehensive business insurance in Chicago. Request a quote or call (312) 738-1384 to get commercial insurance or know more about our other services.